A Solid System with new updates
Whether you have Feed Supervisor already or not, this update will bring even more technology to help you be more efficient, support your farm, and use it wherever you are—whether you have internet or not.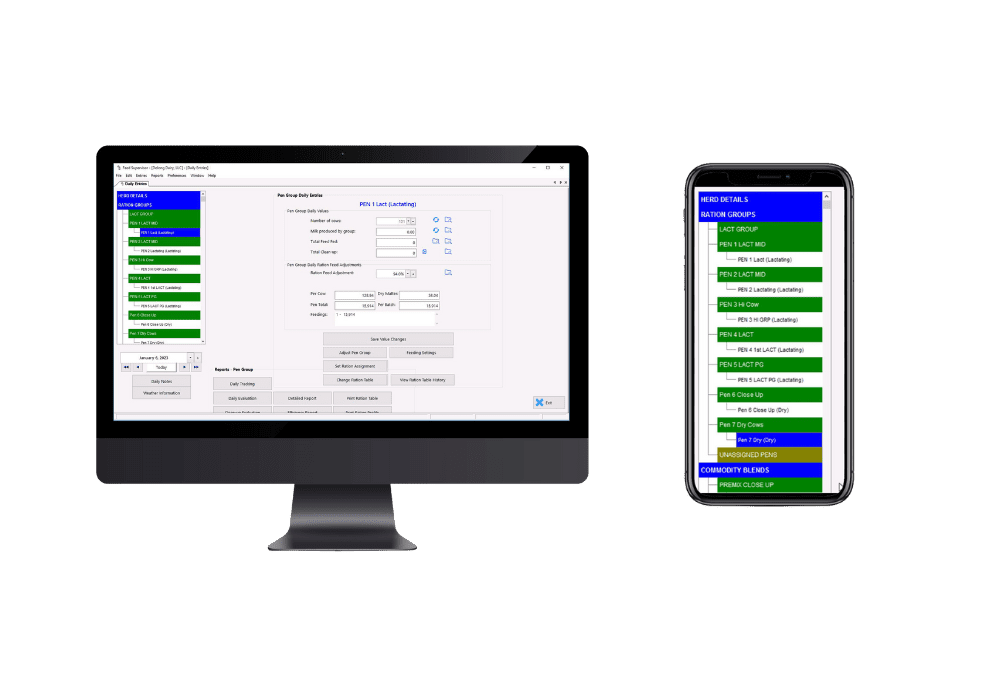 Bringing Solutions to your Farm
Our goal at Supervisor Systems is to never stop pioneering in the way of farm technology because we know that time is valuable, data is critical, and support is what you need. We're here to help strengthen your work in any way we can. Or newest update includes these amazing features:
Updated Foundation
The software that creates and supports Feed Supervisor has now been updated and enables us to make quick changes in the future including new features and reports.
A New Look
The program will have a similar layout and functions you are accustomed to while having a more intuitive and refreshed look. The buttons and wording will now be scalable to your computer size allowing you to set the size of the font to your preferences. Reports will also have an updated look and each report will be generated onto one scrollable page.
Report Scheduler
Select reports to run and distribute automatically. You will now be able to automatically generate reports and have them be viewable by other members of your herd management team.
Weather Collection
Correlate weather data to your feed data through the new weather feature. Weather data is collected from an online source and used to track your herd's seasonal trends.
Remote Access
Manage your data from a web browser on another computer with the new web-capable Add-On. Everything you are able to do on your main Feed Supervisor can now be done from a web browser, including ration changes, running reports, and viewing or editing data. This is an optional feature of the new update allowing your farm to view your data from any device that has internet. The Remote Access add-on will also come with the ability to have an Automatic Cloud Backup, regularly storing your information in an accessible location.
Are you ready to have the best Technology for Feed Management?
"As we change cows and groups, it automatically keeps up to date on the movement of cows. Any changes I need to make to the feed rations is put in the system and the next morning the information is there and ready for the feeder. It makes our feeder a better feeder because he knows what is expected and knows that we're watching. It prevents us from overfeeding and wasting the feed. We probably save 1 to 1-1/2 hours a week since we started using the system."
—Dale Bogart, Deer Run Dairy, LLC, WI
New 24/7 Service Plan
With our new update also comes a new 24/7 Service Plan designed to be simpler and more convenient for you and your feed team. The following features are designed to help your Feed Supervisor System to be bulletproof in function:
Unlimited Support
Our continued commitment to outstanding support will now be more convenient to use. We're here for you 24 hours a day, 7 days a week.
Loaner Equipment
Access to loaner equipment for free (not including shipping costs) while your equipment is being serviced or a new order is being placed.
New Updates
The new update will make it easier for us to create and work on new update releases. Our goal is to have continual updates that help make your job easier.
Have questions about the Feed Supervisor update?
We're here to help. Our team of dairy farm and feed experts have created Feed Supervisor as a purpose-built solution for farm professionals to use every day. If you don't find your question below, please get in touch and our team will be happy to answer it for you.
You can give us a call at 715-755-3575 or email us at [email protected]. A notice will be sent out by email, mail, and social media to all customers to let them know about the update.
Every windows computer should be compatible as our system has limited needs for storage and memory.
Only if you choose to use the web browser add-on feature. Our program will still work without internet access.
Get Started with Feed Supervisor with New Update
Get the Update on my Feed Supervisor
If you are a current Feed Supervisor customer, we invite you to fill out the form below, email us at [email protected], or give us a call at 888-259-8949.